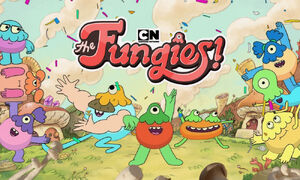 The Fungies is an American series premiered on August 20, 2020, on HBO Max.
The series explore the mythological metropolis of Fungietown through the wondrous and whimsical quests, introduces Seth, a lovable mushroom kid who lives in prehistoric Fungietown and loves science and discovery. In his search for the ultimate adventure, Seth often finds himself causing hilarious problems for the utopia and its colorful inhabitants — but as he comes up with a solution, Seth always finds a newfound emotional understanding.
Get ready for The Fungies!
The Fungies! at SDCC
The Fungies! are being featured in a panel at SDCC@Home this year which is being live streamed for free!
You can witness Stephen P. Neary, creator of the show, talk about the show and secrets from behind-the-scenes, plus looks into the show's future.
The panel starts at 10am PST on Friday July 24, 2020. Here are the panel details, including how to watch!
Featured Video